Relaxing after a long week at work can be really therapeutic. It helps you get back in sync and readies you for the next week ahead. The average person can't always unwind at the spa. Spa treatments can be expensive, especially if you plan to make a full day out of it. It's much cheaper and possibly less time consuming, however, to treat yourself to a spa day at home. In essence, Sanseti can help bring the spa to you. Having a spa day by your lonesome (or with friends!) can be just as relaxing and fun as a day at the spa. So, put on some music, light up some scented candles, and pamper yourself.
Start with a warm bath
Most days we just hop in the shower and bolt out the door. Well, today isn't one of those days. It's YOUR day! Start your spa day by drawing yourself a warm bath. Fill the tub up with warm, relaxing water. Since it's your spa day, any temperature will do but we recommend the water just a bit below piping hot. That way when the temperature lowers you won't totally hate the cold water.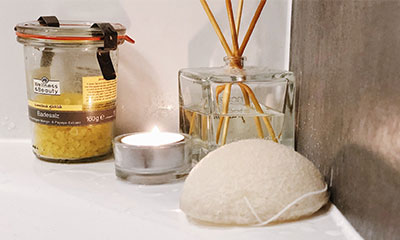 Set the mood
It's Important to set the mood as you soak and relax. I usually recommend a couple of scented candles and some relaxing music. You can Google "Spa Music Mix" and see what pops up. Some incense won't hurt anybody. And while the tub is filling up, you could set all you need to pamper yourself in the tub. A couple of loofahs, some scented oils, and bath salts – amongst other things.
Add some love
It wouldn't be much of a spa day if you just added water, a little soap, and just hop right in. You need to show a little love. There are no limitations to the items you could add to the bath. You could add some essential oils, bath salts, bath oils, and bubbles. Anything that makes the experience more enjoyable. Some people have been known to add Epsom salts, oatmeal, and even milk. We say go for it if it's your thing. Remember it's your day, there are no rules.
Apply a skin masque
While you soak and wait for your skin to soften up, you could go on ahead and pamper the parts of you that aren't submerged in warm scented water. This could be a perfect time to bust out the cosmetic clay and just go crazy. Coat yourself in a mud masque like Sanseti's AHA Marine Firming Masque with Bentonite Clay and let it soak in for a few minutes. You can wash it away as soon as you are done.
Exfoliate your skin
Since you are still soaking in all the goodness from the bath, it might be a great time to bust out the loofah and scrub. A skin brush will do just fine too. You want to scrub in a circular motion to get all that dead skin off you. And when you are scrubbing your face, you might want to be extra careful to make sure you don't press to hard. Your face is very sensitive. We recommend using Sanseti's Daily Exfoliating Cleanser with Natural AHA/BHA Extracts.
Rinse everything off
You've soaked well enough, exfoliated your skin, and applied a facial masque – so far so good! Drain the bath and gently rinse off any remaining products from your skin. Gently wash off with water, any temperature will be sufficient.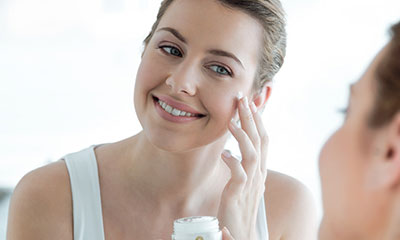 Moisturize your face
It's highly important to moisturize after that intense session of skin pampering to retain some of your natural moisture and help lock it into place. You can go with any moisturizer that particularly calls to you, but of course, we'd recommend Sanseti's Revitalizing Marine Moisturizer.
Follow with a mani/pedi
A manicure and pedicure are the perfect way to cap the entire day off. Nothing like new coat of polish to make you feel like the queen that you are. There are plenty of cuticle oil treatments that are available at your local store to help make your hands look good. 😃
Start fresh
You want to start fresh before you go pampering yourself and that means getting rid of the old layer of polish that you have been rocking for a while. Remove the old nail polish by using nail polish remover. Make sure you get everything off before you move on to the next step.
Soak your fingers and toes
Soak your finger nails and toe nails in a bowl of warm water for at least five minutes before you think about moving on. The warm water makes them soft so that what you are about to do next won't be so difficult. Before you go on trimming the nails show your feet a little love by exfoliating with a pumice stone.
Trim and file your nails
Soaking them first makes trimming your fingernails and toenails, a helluva lot easier. – specially toenails. Use nail clippers and take your time on each hand and foot so that you get it perfect. Bust out the nail buffer and file your nails into perfect shape after clipping. If you are feeling a bit overzealous you could push back your cuticles with a cuticle pusher to get everything in perfect shape for the polish.
Apply the polish
Polish your fingernails and toenails and bring your day of pampering and relaxation to a halt (or just take advantage of the day!).
###
Learn more 👉 sanseti.com
Sanseti is a worldwide skin care brand offering clinically-proven, safe, and effective skin care solutions reaching women and men of every kind. Our goal is to nourish, maintain, and restore your skin to help it glow with a radiant beauty so you can always look your best. Formulated to delight the senses and deliver beautiful results, we design products powered by the best that science and technology have to offer, but rooted in the power and beauty that can be found in nature.
Follow Sanseti on all your favorite social media platforms! #GlowWithSanseti
f: @sansetiskincare
i: @sansetiskincare
t: @sansetiskincare
#GlowWithSanseti #skincareproducts #skincare #skincaretips #skincareroutine #skincarelover #skincareblogger #skincareaddict #skincarejunkie #organicskincare #crueltyfree #crueltyfreeskincare