It's finally time for pumpkin spice lattes, sweater weather, cozy socks, candles and falling leaves but not for acne breakouts. As the summer transitions to the fall, dressing in warmer clothes is not the only thing you have to do to prepare for the change in weather. Your skin routine must adjust as well. To avoid skin-related problems, follow these steps to change your routine from a light-weight summer bronze to a moisturized fall glow.
Your skin is sensitive and can easily be affected by your environment. The water in the air affects the hydration in your skin. The humidity that regularly occurs in the summer keeps your skin glowing but dryer climates can dehydrate your skin. There are pros and cons of each season's weather and its effects on the skin. For example, the summer brings humid, hot sunny weather which keeps the skin hydrated but causes an excess amount of oil, dirt and debris to get trapped in your pores. The skin is also exposed to more UV radiation from the sun's rays causing damage to the skin which can have lasting effects on its appearance (wrinkles, age spots, etc.). 
The fall brings cooler weather, winds, more of a variation in temperature, and like I said before, dryer climates. These changes cause dryness, redness, cracking, and peeling on the skin. The dryness may clear up some acne but its other effects can do serious damage to the skin. Here are a few simple tips to transition your skin routine with the weather.
Change your moisturizer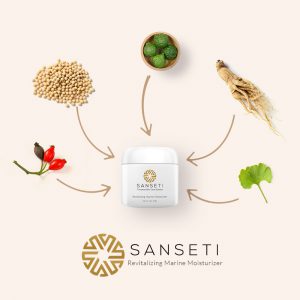 In the summer, your skin prefers a light-weight moisturizer that contains SPF and is oil-free. While these are three qualities of a moisturizer, you'll want more from your everyday moisturizer when the fall comes. Instead, try one with a thicker consistency that will withstand the fall's cool air and stronger winds. Sanseti's Revitalizing Marine Moisturizer is made with a strain of Red Marine Algae that increases hydration levels in the skin and soothes irritated and dehydrated skin due to harsh environmental factors.
Exfoliation
Exfoliation is a great way to get all the sweat, oil, and grub off of your skin after a long, hot  summer day. It can also reduce the appearance of dark spots caused by the sun's rays. However, when the fall comes it's time to change your exfoliation routine. You'll want to do it less times and more gently. 
The combination of your skin will determine how many times you exfoliate. The more oily your skin is, the more times you'll exfoliate. In the fall, once a week should do the trick. The dryer your skin is the less you'll exfoliate. Perhaps once every two weeks or even once a month. The Exfoliating Cleanser with Natural AHA/BHA Extracts uses natural ingredients that won't be harsh on your skin. Of course, use in moderation.
Self care with a mask
There's nothing better than enjoying a night to yourself with a glass of wine, a bubble bath and a nice face mask. It's important to pamper yourself and your skin, especially after withstanding blows from the chill air and brisk winds. Your skin deserves a luxurious treatment. If you're looking for something easy, try a hydrating sheet mask. Book some face-time in your schedule when applying a gel-textured mask or cream. They can be left on overnight for the best results. 
Don't forget to hydrate!
The most vital and important part of your routine. Don't skip it and don't forget it. Twice a day, more if needed. Moisturize, moisturize, moisturize! 
Keep track of how your skin changes throughout the year and what could be causing these changes. The environment plays a huge role in how your skin reacts. Protect your skin from the weather's elements. So put on a powerful moisturizer, grab your favorite sweater, wear your cozy socks and order your pumpkin spice latte to have the best fall day fit for a Hallmark movie.
###
Learn more 👉 sanseti.com
Sanseti is a worldwide skin care brand offering clinically-proven, safe, and effective skin care solutions reaching women and men of every kind. Our goal is to nourish, maintain, and restore your skin to help it glow with a radiant beauty so you can always look your best. Formulated to delight the senses and deliver beautiful results, we design products powered by the best that science and technology have to offer, but rooted in the power and beauty that can be found in nature.
Follow Sanseti on all your favorite social media platforms! #GlowWithSanseti
f: @sansetiskincare
i: @sansetiskincare
t: @sansetiskincare
#GlowWithSanseti #skincareproducts #skincare #skincaretips #skincareroutine #skincarelover #skincareblogger #skincareaddict #skincarejunkie #organicskincare #crueltyfree #crueltyfreeskincare