The coronavirus is affecting nearly every aspect of our lives, and your skin is no exception.
Skin is sensitive to change and staying inside all day and wearing masks when you go out messes with your skin. COVID-19 has altered our way of living causing many people to modify their sleep schedule, diet, and exercise routine. These subtle changes all have huge impacts on your skin. Likewise, the increased stress due to the coronavirus doesn't help your skin either. Luckily, you can update your skincare routine to combat coronavirus caused skin issues. 
Fix your Daily Habits 
Something as simple as your sleep routine can cause your skin to improve or worsen.  The coronavirus destroyed normalcy and, as a result, sleep schedules. Inadequate sleep causes your body to release cortisol that increases inflammation in your skin. Create a steady sleep schedule of at least eight hours a night to get your acne under control.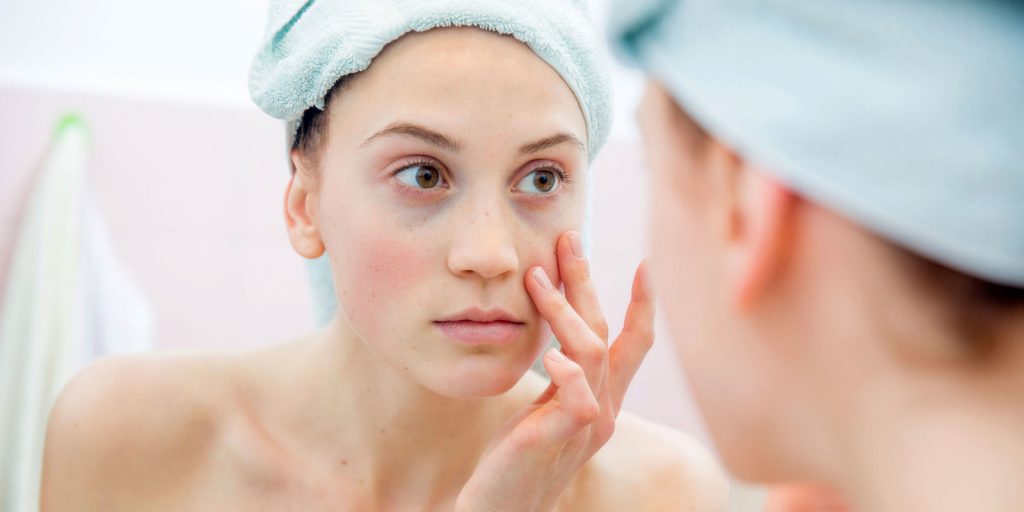 With all the extra time at home, it's easy to sneak into the snack cabinet. Unfortunately, the food we eat directly affects our skin. Adopting good nutritional habits promotes healthy skin, so keep up your healthy eating during quarantine. 
With all the gyms closed, workouts look a lot different now. Exercise is essential to having glowing skin. Like getting enough sleep, exercising burns cortisone which reduces stress helping your skin stay clear.  
Skincare Products that Help
In addition to fixing your daily habits, there are some skincare products you can use to aid your skin during the coronavirus. The necessary precautions of washing your hands frequently and using hand sanitizer can cause your skin to become extremely dry. Apply moisturizer after cleaning your hands to prevent dry skin. 
It's difficult to get a natural-looking glow when you're stuck inside all day. To create a luminous look at home, use vitamin C serum. It's a must-have to keep your skin looking bright. Vitamin C prevents skin damage while brightening and evening out skin tone. 
Skincare Tips 
There are some precautions you can take to keep your skin looking healthy. Staying home all-day decreases blood-flow due to a lack of sun exposure and movement. The deprivation of blood-flow can create puffy eyes, colorless, and sagging skin. Take additional skin care measures, such as an at-home facial to give your face a healthy glow! 
To create your at-home facial, first, cleanse then steam your skin. Next, exfoliate your skin and apply a mask. After, massage your skin followed by a moisturizer. Giving yourself an at-home facial will leave you feeling fresh and stress-free. 
Every news channel is saying it: don't touch your face. So, seriously, don't. Pimples are expected to arise every once and awhile. It's tempting to pop them, but doing so will cause them to spread or create acne scars. 
We Can Help 
At Sanseti, we strive to help our customers look and feel their best – even in difficult times. Our products are made with natural ingredients to help your skin. Our Revitalizing Marine Moisturizer is the perfect product to fight off dryness. Likewise, the AHA Marine Firming Masque ensures a relaxing spa day facial. Control what you can and take care of your skin!
###
Learn more 👉 sanseti.com
Sanseti is a worldwide skin care brand offering clinically-proven, safe, and effective skin care solutions reaching women and men of every kind. Our goal is to nourish, maintain, and restore your skin to help it glow with a radiant beauty so you can always look your best. Formulated to delight the senses and deliver beautiful results, we design products powered by the best that science and technology have to offer, but rooted in the power and beauty that can be found in nature.
Follow Sanseti on all your favorite social media platforms! #GlowWithSanseti
f: @sansetiskincare
i: @sansetiskincare
t: @sansetiskincare
#GlowWithSanseti #skincareproducts #skincare #skincaretips #skincareroutine #skincarelover #skincareblogger #skincareaddict #skincarejunkie #organicskincare #crueltyfree #crueltyfreeskincare