Depending on what type of skin you have, whether it be combination, dry or oily, it's important to have a skincare routine tailored to your skin type. However, COVID-19 has not only impacted our daily lives but our daily skincare routines, as well. After learning about the various ways the coronavirus is affecting your skin in one of our previous blogs, it's time to learn how you can adjust your skincare routine to combat these negative changes.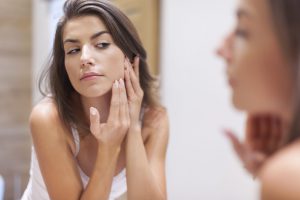 As a brief reminder, some ways the coronavirus can negatively affect your skin are an increase of inflammation in the skin due to lack of sleep, poor diet which can directly affect the skin, and a decrease of exercise. Also, not to mention the immense stress that most people are feeling during these times and its effect on the skin.
A normal skincare routine includes a cleanser, toner, serum, eye cream, spot treatment, moisturizer, and sunscreen as your daytime regime. Then, a cleanser, toner, eye cream, treatment, and moisturizer or night cream for your nighttime regime. Realistically, most people don't have the time to complete this complex skincare routine during their typical workday. 
As you know, COVID-19 routines are anything but "normal." Some of you may be staying up later than usual, sleeping in more than usual, not exercising as much, eating poorly, etc. Overall, your usual routines have changed and thus, maybe your skincare routines haven't been what they should be. As the COVID-19 negatively affects your skin, take the extra time you have throughout your day to develop a skincare routine suited for your skin. 
Adapted Skincare Routine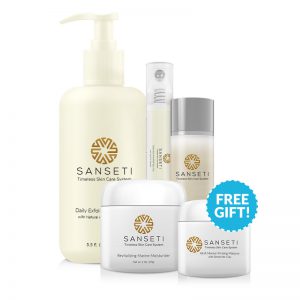 As the previous blog suggests, fix your daily habits to ensure the health of your skin, then use our products with natural ingredients to fight all damage that  COVID-19 has caused your skin.
Step 1: Thoroughly cleanse your face with our Daily Exfoliating Cleanser with Natural AHA/BHA Extracts to clear your pores of debris built up throughout the day.
Step 2: Once the face is clean, follow that up with a toner to refresh the skin without stripping away its natural moisture.
Step 3: Apply an eye cream. We recommend Essential Anti-Puff Eye Gel with CoQ10 to reduce puffiness in the morning after the  lack of sleep that most of us are experiencing right now.
Step 4: Then, use Advanced Peptide Serum with Natural Extracts to improve the elasticity of your skin, minimize wrinkles caused by the stress of current events, and repair damages to the skin. 
Step 5: Lastly, moisturize the face with our Revitalizing Marine Moisturizer to improve fine lines and increase hydration levels in the skin.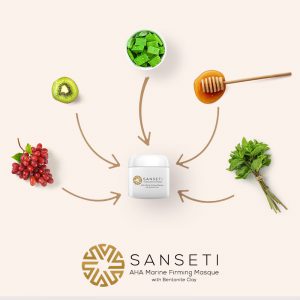 Repeat these steps at night with additional cleansing to ensure that the face is clean and add any pampering to the skin that targets your skin's main problems: oil, dryness, aging, scaring, dark spots, imperfections, etc. For example, apply our AHA Marine Firming Masque with Bentonite Clay once a week during your nighttime routine to detox the face from the day's wear and tear.  
Don't let COVID-19 cause any more problems to your skin. Follow these five steps to create a skincare routine that will have your skin looking happier and healthier during these hard times.
###
Learn more 👉 sanseti.com
Sanseti is a worldwide skin care brand offering clinically-proven, safe, and effective skin care solutions reaching women and men of every kind. Our goal is to nourish, maintain, and restore your skin to help it glow with a radiant beauty so you can always look your best. Formulated to delight the senses and deliver beautiful results, we design products powered by the best that science and technology have to offer, but rooted in the power and beauty that can be found in nature.
Follow Sanseti on all your favorite social media platforms! #GlowWithSanseti
f: @sansetiskincare
i: @sansetiskincare
t: @sansetiskincare
#GlowWithSanseti #skincareproducts #skincare #skincaretips #skincareroutine #skincarelover #skincareblogger #skincareaddict #skincarejunkie #organicskincare #crueltyfree #crueltyfreeskincare