Spring is the season for blooming flowers, allergies, and cleaning.
While cleaning is a year-round activity, spring cleaning involves cleaning all the spots you've been avoiding all year. Yes, that means dusting light fixtures, wall washing, and more. On the bright side, your home will feel fresh, and you'll be happier. Seriously! Cleaning releases endorphins and burns calories. So, get your workout in today by trying these five spring cleaning tips! 
Make a List 
While cleaning the whole house may seem intimidating, creating a to-do list will eliminate some of the stress. Start with the most difficult tasks first, so cleaning will get easier as the day goes on. Make checkpoints to reward yourself after accomplishing a few tasks. By having something to look forward to, the time will pass quicker! 
Prep Work 
It's essential to clean your tools before you start cleaning the house. If you're using dirty products, you're not getting the most out of your hard work! Start by wetting your sponges, then place them in the microwave for two minutes. Next, clean your vacuum by wiping it down with mild detergent and a damp cloth. Finally, place your mop in the bucket with a few gallons of water to one cup of vinegar and let sit for 15 minutes. Now that your tools are all clean, you can start the fun stuff! 
Declutter 
Reduce the items in your home to instantly make your space feel cleaner and bigger. A good rule of thumb for deciding whether or not to keep clothes is by throwing out anything you haven't worn in a year. Clothes aren't the only thing that needs to be decluttered. Going through drawers and looking under the beds should also be a priority when decluttering.
The Easy to Forget Spots 
There are a few things that seem to always get looked over when cleaning. The coffee pot is easy to miss but contains nasty gunk that can get into your delicious cup of joe. All it takes to clean the machine is to brew a 50/50 mixture of vinegar and water. Finish by brewing a few cups of just water after the mixture. Another item that seems to be forgotten during this cleaning season is pillows. Wash each pillow in the washing machine to ensure they're fresh. 
Inside Out 
Tackle cleaning with an inside-outside approach. After cleaning the inside of your house, start on the outside. The fresh air and sun will give you the motivation to keep cleaning! People often forget the outside of their house needs cleaning too. This season is the perfect time to tidy up the yard and garage while it's nice out.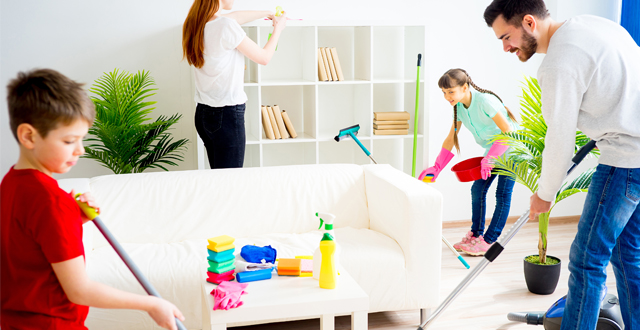 Cleaning is a great way to kick off the spring season. These tips will make it the easiest and cleanest spring ever! 
###
Learn more 👉 sanseti.com
Sanseti is a worldwide skin care brand offering clinically-proven, safe, and effective skin care solutions reaching women and men of every kind. Our goal is to nourish, maintain, and restore your skin to help it glow with a radiant beauty so you can always look your best. Formulated to delight the senses and deliver beautiful results, we design products powered by the best that science and technology have to offer, but rooted in the power and beauty that can be found in nature.
Follow Sanseti on all your favorite social media platforms! #GlowWithSanseti
f: @sansetiskincare
i: @sansetiskincare
t: @sansetiskincare
#GlowWithSanseti #skincareproducts #skincare #skincaretips #skincareroutine #skincarelover #skincareblogger #skincareaddict #skincarejunkie #organicskincare #crueltyfree #crueltyfreeskincare