In the past, I was a bit of a hoarder. I bought a lot of beauty products and I never really had the heart to throw them away when something better came along. I must have changed my mind on a whim at least a couple dozen times. I finally decided to empty out my beauty cabinet and these are what I found buried under all the cobwebs and insecurities.
A bunch of '90s toners
Some products had me hooked to the point of obsession. Toners are definitely one of those products, and I'm super excited to see them again. The K-beauty guide to skin care was the benchmark skin toner of the nineties. It had everything you could ever need from a toner and, by today's standards, it's still not half bad. The toner settled to the bottom of my drawer and I almost didn't recognize it. It evened out my skin tone in the past and it just broke my heart to throw it away. Although the bottle I found wasn't particularly usable and/or safe, it was still a much-welcomed "blast from the past." I can't say that it's better than the toners we have today, but I'm pretty confident that it holds its own quite well against the new, trendier toners.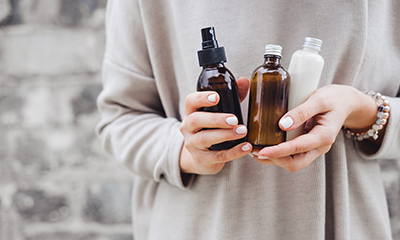 Alcohol-based skin cleansers
I know, right? You are probably thinking, why do you still have those? I know they are mistakes now, but a couple of years ago they weren't. I am especially not keen on naming products, but basically let's just say that it really sucked starring at those cleansers again. It just reminded me of how little information we had back then. Not only does alcohol dry out your skin and make it incredibly flaky, it also has that chill about it. Although they contained coconut oil and other ingredients to soften its impact, it still felt awful and I realize just how misguided I was back then.
Waterproof mascara
I was really big on waterproof mascara in the past. Again, I refer you to the lack of information phrase written in the alcohol-based section. I mean, waterproof mascara isn't totally a bad thing. Lord knows I slap on a little bit here and there when I go to the beach in the summer, but I always put them on a timer – and you should too. These mascaras were dust covered and I distinctly remember abandoning them after I discovered just how dangerous they are when they have been left on for too long. The "waterproof" in waterproof mascara comes from some chemicals that I doubt you are really familiar with. All waterproof mascara is partially made from silicones, waxes, and polymers that can clog up your pores, cause irritations, and ruin your eyelashes. Water-resistant makeup is the better way to go. They don't have all that skin-ruining stuff and they don't cause as much irritation.
While we're on the subject, I thought I'd talk about another classic that I found when I was digging through the rubble. This mascara reminds me of the nineties so much. It was my favorite mascara back when I was going through my rebellious phase. It shocked me that this classic was still on the market and still in it's original lime and strawberry packaging. It was a great mascara back then and I'm sure that it's not so bad today. The formula remains mostly untouched and I almost found myself slapping on a little. 😃
Strawberry-flavored lipstick
The thing about flavored makeup is that they taste too damn good to be dangerous, or so I thought. A few years ago, there was a pretty big scandal that involved multiple named beauty companies and it revolved around the amounts of lead found in their so-called flavored lipstick. There were no brands that were spared and it basically killed the flavored lipstick product forever. There it is, flavored lipstick will kill you eventually. I was happy to toss the poison stick.
Getting rid of some of your old stuff is somewhat therapeutic. It lets you revisit all the greatest hits and botches. It also reminds you of just how far things have come since the good old days and how simply timeless certain products are. It was a lovely experience and I was pleasantly shocked with what I found.
###
Learn more 👉 sanseti.com
Sanseti is a worldwide skin care brand offering clinically-proven, safe, and effective skin care solutions reaching women and men of every kind. Our goal is to nourish, maintain, and restore your skin to help it glow with a radiant beauty so you can always look your best. Formulated to delight the senses and deliver beautiful results, we design products powered by the best that science and technology have to offer, but rooted in the power and beauty that can be found in nature.
Follow Sanseti on all your favorite social media platforms! #GlowWithSanseti
f: @sansetiskincare
i: @sansetiskincare
t: @sansetiskincare
#GlowWithSanseti #skincareproducts #skincare #skincaretips #skincareroutine #skincarelover #skincareblogger #skincareaddict #skincarejunkie #organicskincare #crueltyfree #crueltyfreeskincare