Most of us are taught that the bare basics of skin care are washing and moisturizing our faces each day. That's a great start, but it's really only the tip of the iceberg. There are all kinds of other steps you may want to consider adding to your skin care routine, and one of the most powerful options are serums. Here's everything you need to know about them.
What Is A Skin Care Serum?
A serum is a concentrated product that can boost the impact of your moisturizer while also highlighting any specific concerns or goals you have regarding your skin care. The impact of your serum depends on which type you choose, as they have all varying main ingredients, and many are designed with different skin goals in mind. For example, Sanseti's Advanced Peptide Serum especially thrives at helping to reduce wrinkles. If you have a specific issue you're trying to target, serums are a great option.
Serums generally having the intent of delivering more concentrated ingredients directly to your skin, and they often seep deeper into the skin than other products in your typical skin care regimen. The consistency of serums is lighter than moisturizers, oils, and creams. Serums are meant to be used a bit more regularly than masks or peels, and when you use them consistently, you can end up with smoother, firmer, and healthier looking skin.
While serums have strong moisturizing qualities, they are not the same thing as a traditional moisturizer, so it's not a great idea to skip your moisturizer simply because you're using a serum. (That said, do check first to make sure that the ingredients in your serum don't interact with the ingredients in your moisturizer.)
How To Use Skin Care Serums
When introducing a new serum to your routine, be sure to start off with a patch test by applying a small bit of the serum to your skin and monitoring it for 24-72 hours to make sure you don't have a negative reaction. No person's skin is alike, and some serums may work for some and cause negative reactions for others, so it's important to do your diligence first. (An allergic reaction to a skin care product is no fun, and can even be dangerous.)
Once you've established that the serum agrees with your skin, you'll want to apply it after cleansing your face, but before moisturizing. If toner is also part of your daily routine, you'll want to cleanse, tone, apply serum, and then moisturize. (Generally, you'll want to apply skin care products in order from thinnest to thickets.) Once you apply the serum, allow it to dry before applying your moisturizer. If you want to go the extra mile in ensuring your serum absorbs deeply, lightly tap on your face with your fingers for a few seconds after applying.
Some serums are only meant to be applied every few days, while others can be applied once or twice each day. You'll need to read all the instructions on your serum's packaging to determine how often to apply your serum of choice. Some serums, like the kinds that include Vitamin C or retinol, may tingle when you apply them. If you have sensitive skin, start gently and implement the serum into your routine slowly over time.
A word of warning: serums are very potent. Just a few drops will normally do the trick. Beware of the temptation to over apply your serum, as this can cause a reaction. Also be sure to double check that your serum's ingredients will not react negatively with the ingredients in your moisturizer or other skin care products. If you have rosacea, eczema, or other skin conditions, talk to a professional if you have any concerns about serums.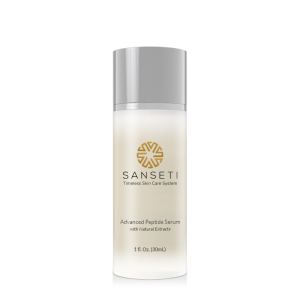 How To Choose The Right Serum For You
Knowing which serum is right for you is all about knowing what your needs are, and which ingredients will provide which results. If you're struggling with acne, choose a serum with high concentrations of vitamin C. If you want your skin to glow more, try a serum with green tea. If your skin is dry, seek out a serum with hyaluronic acid or vitamin E.
If you're looking for a lifting effect and wrinkle reduction, you'll want to choose a serum with peptides and daisy extract, like Sanseti Advanced Peptide Serum with Natural Extracts. (It's especially powerful when used along with the rest of Sanseti's essential skin care regimen, including our Exfoliating Cleanser, Marine Moisturizer, and Anti-Puff Eye Gel. Sanseti serum has been proven to reduce deep wrinkles and increase in lifting effect. It can also create a brightening, vibrant look. Time to get glowing!
###
Learn more 👉 sanseti.com
Sanseti is a worldwide skin care brand offering clinically-proven, safe, and effective skin care solutions reaching women and men of every kind. Our goal is to nourish, maintain, and restore your skin to help it glow with a radiant beauty so you can always look your best. Formulated to delight the senses and deliver beautiful results, we design products powered by the best that science and technology have to offer, but rooted in the power and beauty that can be found in nature.
Follow Sanseti on all your favorite social media platforms! #GlowWithSanseti
f: @sansetiskincare
i: @sansetiskincare
t: @sansetiskincare
#GlowWithSanseti #skincareproducts #skincare #skincaretips #skincareroutine #skincarelover #skincareblogger #skincareaddict #skincarejunkie #organicskincare #crueltyfree #crueltyfreeskincare