The holidays are here! You're busy planning for visitors coming into town or making travel plans to leave town, baking holiday cookies and meals, cleaning the house, buying presents, etc. There are so many things that could stress you out during the holiday season, you don't want to have to worry about your skin too. With the holiday season comes the dry winter air. This change can drastically affect your skin: drying it out, peeling, cracking, and breakouts. During a time when you want your skin to look its best, you have to take care to keep it from looking its worst. Here are some tips and tricks to keep your skin glowing for the holidays.
First and foremost…
1. Adjust your skincare for the season.
Your skincare routine should change as the weather does. You won't be needing your light moisturizer or exfoliating products that you used in the summertime. The oil and debris your skin collects on those hot summer days won't be as intense in the wintertime, so exfoliation isn't a priority.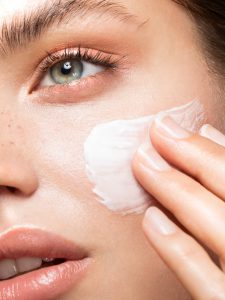 Instead, try a heavier moisturizer that will keep your skin hydrated throughout the day and protect it from the harsh, dry winter air. If you notice your skin tends to break out during months of climate change (in the spring or fall), try switching up your skincare products and keep a variety on-hand for those days with fluctuating weather.  
2. Hydrate, hydrate, hydrate!
This is the most important tip and one that should be completed multiple times a day: moisturize your skin! After you wash your face and before you apply your makeup, put on a thick, creamy moisturizer. Use one that is ultra-rich and has repairing ingredients like hyaluronic acid. Apply generously to all areas of your skin, including underneath your eyes. Doing so will replenish the moisture in your skin and even your complexion. Make sure to apply before you go to bed so your skin can refresh and hydrate for the next busy day.
3. Try a product containing Retinol. 
Retinol is usually added to creams applied on the skin to boost the amount of collagen your skin makes and pumps out. It cuts down fine lines, wrinkles and improves skin tone, complexion, and color. Incorporate a Retinol-based product into your skincare routine at least once a week. It will help repair the damage caused to your skin from environmental factors like cold weather, wind, the sun, and inevitable aging.  
4. Don't forget your eyes!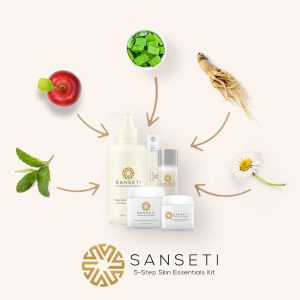 We all hate hearing, "you look tired," when you arrive at work in the morning. Our eyes are one of the biggest giveaways of stress and anxiety: the bags, wrinkles, puffiness, dark spots, and lines. Just changing simple lifestyle habits can improve those negative effects on the eyes. Get enough sleep, use a cooling gel or cold washcloth on the eyes when you wake up, and moisturize. They are also typically the first part of the face that shows signs of aging. The eyes are usually the first things people look at when they talk to you so show them some love!
Look your best at your work holiday party. Show your boss and any holiday visitors who the glowing star is this holiday season. After following these tips and tricks, you'll have glowing skin that will "wow" them all. Need help keeping your skin glowing for the holidays? Check out our Revitalizing Marine Moisturizer and other skincare products from Sanseti.
###
Learn more 👉 sanseti.com
Sanseti is a worldwide skin care brand offering clinically-proven, safe, and effective skin care solutions reaching women and men of every kind. Our goal is to nourish, maintain, and restore your skin to help it glow with a radiant beauty so you can always look your best. Formulated to delight the senses and deliver beautiful results, we design products powered by the best that science and technology have to offer, but rooted in the power and beauty that can be found in nature.
Follow Sanseti on all your favorite social media platforms! #GlowWithSanseti
f: @sansetiskincare
i: @sansetiskincare
t: @sansetiskincare
#GlowWithSanseti #skincareproducts #skincare #skincaretips #skincareroutine #skincarelover #skincareblogger #skincareaddict #skincarejunkie #organicskincare #crueltyfree #crueltyfreeskincare