Your skin is your body's first defense against harm. It's the front door of your home that blocks intruders and unwanted guests from getting in. Knock, knock! Well, who could that be? It's stress and anxiety. Reluctantly, you let them in because you know that they won't be going away anytime soon. 
But they did not come alone. They brought all of their friends — their negative side effects — along with them. There's acne, breakouts, blackheads, etc. Don't forget all of their other side effects of the body. When you're stressed, your skin becomes more prone to skin problems. Don't let stress and anxiety ruin your skin care. 
If you are experiencing unexplained differences in the skin like breakouts, itchiness, dry spots, bumps, redness or an overall change in complexion, it could be because of stress. Surprisingly, your emotions can impact the appearance and complexion of your skin. They can arrive at any time, without warning. 
The Body's Reaction To Stress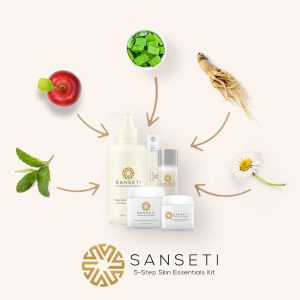 Stress causes the body to release hormones as a triggered response. One of those hormones is called cortisol which plays a major part in the skin's reactions. It tells your skin's glands to produce more oil, along with several other chain reactions. Oil clogs the skin's pores and makes it more prone to acne. 
It may be tempting to skip your nightly routine and head straight to bed, exhausted from the stress you have been feeling, but that is exactly what you should not do. Skipping your skin care could just make the problem area worse. Stressing about that giant pimple on your forehead just adds to the problem and causes more. It's a vicious cycle. 
Tips To Soothe Your Skin From Stress
Here are some ways to combat stress's effects on the skin and break that cycle: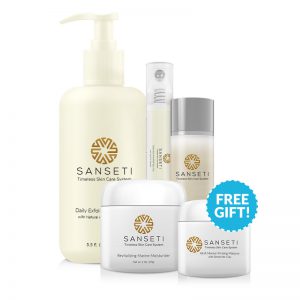 Continue with your regular skin care routine.

Being tired or stressed is not a good excuse to skip your skin care regime. Stress gives you more of a reason to keep it up. Sanseti's

5-Step Skin Essentials Kit

can make your nighttime routine easier. This kit covers all of the things that you need to enhance your routine and get everything that your skin needs too. It includes a cleanser, moisturizer, serum, eye gel and face mask. Everything you need for your daily and nightly routine.

Exercise regularly.

Take a walk around your neighborhood. Meditate. Yoga. Any physical activity is good for your skin and the rest of your body. Exercising has been known to reduce stress. It increases your endorphins which are the brain's "feel-good" neurotransmitters. When released, your body feels better and your mood improves. Fight the urge to binge watch your favorite show and do something active instead.

Handle your stress in healthier ways.

Avoid eating junk food and staying up late. These habits could only make matters worse. What you eat and how much sleep you get have direct effects on the skin. Try some healthier alternatives to chips and candy. Instead of going on your phone for an hour before bed, try reading. The blue light that radiates from screens (phones, computers, TV) is also harmful to the skin. Limiting your screen time has more than just a few benefits.
Your skin is more sensitive than you think. Take the time to take care of it. This time, when you let stress and anxiety into your home, welcome them with open arms because you know that they won't be staying for long and bringing extra company over. You'll be prepared to keep the door closed for any additional guests that they planned on bringing over. With these tools to fight stress's effects, they'll be leaving the party early. You'll feel relief when you shut the front door as they walk out.
Need help keeping stress out of your skin? Take a look at Sanseti's shop of clinically proven, effective skin care for the right skin care solution for you.
###
Learn more 👉 sanseti.com
Sanseti is a worldwide skin care brand offering clinically-proven, safe, and effective skin care solutions reaching women and men of every kind. Our goal is to nourish, maintain, and restore your skin to help it glow with a radiant beauty so you can always look your best. Formulated to delight the senses and deliver beautiful results, we design products powered by the best that science and technology have to offer, but rooted in the power and beauty that can be found in nature.
Follow Sanseti on all your favorite social media platforms! #GlowWithSanseti
f: @sansetiskincare
i: @sansetiskincare
t: @sansetiskincare
#GlowWithSanseti #skincareproducts #skincare #skincaretips #skincareroutine #skincarelover #skincareblogger #skincareaddict #skincarejunkie #organicskincare #crueltyfree #crueltyfreeskincare