A new season brings new makeup looks! Makeup is a great outlet for expressing yourself through creativity, and this season will not disappoint. Unique eye looks mixed with classic lip styles are sure to make for a HOT spring. We're going to see some beautiful makeup trends, and these fads will not let you down! 
Exaggerated Eyes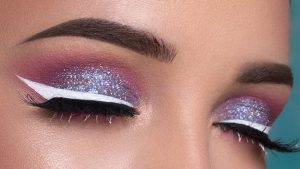 Eye looks this season will drive you wild! White eyeliner is replacing the traditional black to ensure your eyes pop. But that's not all! Eyeliner is also not being placed in the usual lash line area. Free-floating eyeliner is the new thing – and it looks great. After doing your eyeshadow, use a pencil eyeliner to draw a line across your lid. You can even draw fun shapes to create the perfect exaggerated eye look.
Sparkly eyes are also making a return. And we mean sparkles EVERYWHERE – on your eyelid, and underneath your eye. Neon cat eyes are also showing off this spring. If you're not into neon, then try a pastel blue eyeshadow look as that's another projected trend. 
Eye shadows have their own extravagant looks this spring as well. You've heard of ombre hair, but have you seen ombre eyes? Well, definitely check them out; they're gorgeous and in style this season. Another eye shadow trend is putting contrasting colors on opposite sides of your eye. For example, put a red eyeshadow across your lids and green along your lower lash line for the perfect color combo.
Lavish Lips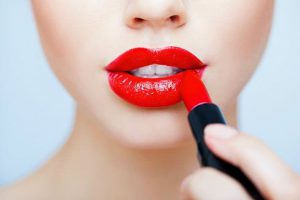 Lips are keeping it classic this spring. The red lip is going to be a popular choice among influencers and beauty gurus alike. Not only is red ready for it's come back, but all over glossy lips are coming in hot too.
If you're wanting a little extra dazzle, go with a dark lip color. While we're used to breaking out the pretty pinks for spring, another trend for lavish lips is almost black colored lipstick. Dark violent is the perfect color to pull off this edgy look.
Whether you hop on all the trends or just try out a few, we're sure you'll rock your new look flawlessly! Don't be afraid to try something new anyone can be a trendsetter in the makeup world. We're ready for you!
###
Learn more 👉 sanseti.com
Sanseti is a worldwide skin care brand offering clinically-proven, safe, and effective skin care solutions reaching women and men of every kind. Our goal is to nourish, maintain, and restore your skin to help it glow with a radiant beauty so you can always look your best. Formulated to delight the senses and deliver beautiful results, we design products powered by the best that science and technology have to offer, but rooted in the power and beauty that can be found in nature.
Follow Sanseti on all your favorite social media platforms! #GlowWithSanseti
f: @sansetiskincare
i: @sansetiskincare
t: @sansetiskincare
#GlowWithSanseti #skincareproducts #skincare #skincaretips #skincareroutine #skincarelover #skincareblogger #skincareaddict #skincarejunkie #organicskincare #crueltyfree #crueltyfreeskincare